Normally on Modest Monday I will share one of my skirt outfits, but today I decided to change it up a bit. I started thinking about it and was afraid that by only showing you my skirts I was misleading you and I don't want to do that. While I do wear skirts most of the time, I do still wear jeans too.
Sometimes what I am doing is easier done in jeans (in my opinion) and sometimes, honestly, I just feel like wearing jeans. I do try to make sure that my jeans are not tight and my shirts are a little longer.
This sweater is one of my favorites, it came from a garage sale.
My t-shirt is from
Lifeway
, this is it below (the back view).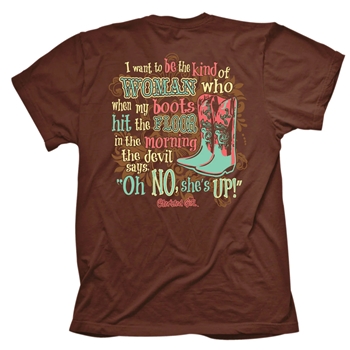 My jeans are Cowgirl Tuff "Don't Fence Me In" jeans from my husband's farm store, the thread on them matches the colors of my t-shirt.
My boots, which you can't see are Macie Beans.
My husband bought them for me for Christmas! I LOVE them, black and brown together so I can wear them with anything!
I hope you enjoyed this different look into my closet.
Blessings,
Rashel